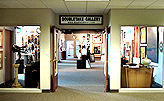 (Click on the image to enter)

"Doubletake offers a glimpse into how an online gallery should look..."
USA Today
---
Listed in Excite's prestigious Shopping>Home & Garden>Home Decor category.
"Buy or sell fine art with this consignment dealer featuring established and emerging artists, as well as fine art classifieds."
---
Doubletake Gallery was ranked by Lycos.com as one of the top 25, of their TOP 5% Shopping web sites on the net. That put us in the company of Avon, Disney, Warner, L.L. Bean and TicketMaster to name just a few. They also ranked us #13 on their list of top Museums & Galleries.
"This online consignment art gallery features a constantly updated collection of thousands of works by well-known artists, including Norman Rockwell, Leroy Neiman and Frederick Hart, as well as works by emerging artists. The clean and sharp design makes searching, shopping and ordering a snap, and a heck of a lot easier than trudging down to the museum gift shop. The emerging artists add a little spice to an otherwise respectable and safe catalog..."
Comments by
Mark A. Read
President of Hypercube Media Concepts, Inc.
About Doubletake Gallery

Hours

Monday - Friday, 9am - 5pm CST

Saturday by Appointment
Fine Art Brokerage...
Doubletake Gallery is a fine art brokerage service. We work with art collectors to locate specific pieces, and help them resell pieces that no longer fit their collections. We do this through this web site with it's international Internet presence, and a retail gallery located near Minneapolis, Minnesota. At any one time, you can find works by
Leroy Neiman, Norman Rockwell, Salvador Dali, Peter Max, Erte, Andy Warhol
and many, many others displayed on our web site and in our
gallery
.
Doubletake Gallery is a hands on brokerage service. What that means is that we're involved in every step of the brokerage transaction. Everything passes through our hands. Experienced buyers know that we have the most rigid quality standards in the industry. Every piece of artwork that is bought from us, is inspected by us before you are ever charged for it. If the piece is not up to our standards, it is returned to the seller and your credit card is not charged. Our packaging is customized to each piece, insured, and shipped Fedex, whom we trust to get it to you safely.
If you're a seller, we secure the payment on your behalf so that you can rest assured that you will get paid once the transaction is complete. We will often take the extra step of sending the proper shipping materials to you to insure the artwork will arrive at our gallery in good condition.
Collectors of fine art often wait until they're on vacation to find exceptional works of art. Doubletake Gallery is here to give collectors the same artwork, but with everyday availability, guaranteed authenticity and condition, and great values. And because of our extensive database of available artwork, virtually any piece is available though Doubletake Gallery, even if you don't see it advertised here.
This is a panoramic view of Doubletake Gallery
"How Do I Sell..."
As an owner of fine art, finding a way to resell can be problematic.
Where do you advertise?
What should you say about your piece?
How much should you ask?
How do you conclude the transaction if an interested buyer is hundreds of miles away?
All of these questions have prevented owners of fine art from reselling. The task can be daunting. Doubletake Gallery was formed to answer these questions. Just telling us what you own starts the sales process. We may already have people waiting for a piece that you want to sell. Artwork owners who want to aggressively market their pieces, but want to keep their pieces in their possession until we find a buyer, can advertise on our web site using a free
Classified Ad
. We also accept physical consignments (with prior approval) that are displayed in our retail gallery and on the
Current Inventory
page of our web site. If you have questions about the best option for you, give us a call at the number on the bottom of this page.
Up-to-the-Minute Information...
Even through we've worked as a fine art brokerage since 1986, the World Wide Web, with its power to expose products to a huge audience, was a natural choice to market all the high quality artwork available to us. In 1996, to take full advantage of the Web's size and scope, a whole new type of web site was designed just for Doubletake Gallery. Our web site is directly linked to Doubletake's inventory database. When a piece of art is added to the database, it's added to the web site. If a piece sells, or a price changes, the change shows up immediately. You can always count on having accurate information from Doubletake's web site. (see comments by Mark A. Read)
When you're ready to look at the list of items we have to offer, simply click the Current Inventory button. Clicking on one of the artist's names will bring up an alphabetical list of titles currently available along with details about the piece. It's that easy. You'll find that all of our pages work the same way, so when you're familiar with how one works, you'll know how to work them all. Click How to... if you need help but we suspect you'll do just fine.
Please feel free to email me, Robert Varner, directly if you have questions or comments about what we're doing at Doubletake Gallery. Whether you're looking to buy, sell or just talk fine art, I'll look forward to hearing from you soon.
Robert Varner and Debra Sheek Varner

Co-Owners